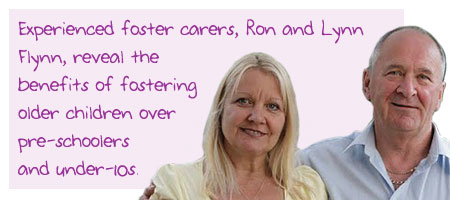 Ron explains, "We first started fostering after watching a TV programme about the suffering of Romanian orphans. It had such a shocking impact that the desire to help children has stayed with us since. Around the same time, we bought a house with plenty of spare rooms, and initially looked after foreign students. We enjoyed this, but felt it was time to extend our hospitality to disadvantaged young people on a more permanent basis. This coincided with a North Somerset fostering leaflet being posted through our door, and we haven't looked back since!
"When we started fostering we had young children of our own, so we felt that fostering teenagers would be more sensible and less physically demanding. Lynn wasn't working, so fostering slotted straight in to our home circumstances and routines. Fostering older children has also been hugely rewarding, as we've been able to help them at a really crucial time in their lives – when they're approaching exams, plotting their careers and preparing for independence."
Lynn adds. "When we were considering fostering, we went to an information evening and met an experienced foster carer. She convinced us that we were making the right decision, and gave us lots of great advice when we got started. Even now, she's still on the end of the phone.
"We felt that our parenting skills would be enough to foster. After all, we'd proved ourselves as caring, supportive parents. Yet it soon became apparent that to successfully foster young people who've not been so fortunate, you need to constantly update your skills and seek advice from the experts who're available to you. We both attend every possible training session and it's helped enormously."
Lynn continues, "It's been an emotional journey, full of ups and downs! But associating with young people on a daily basis keeps us young, and we're never bored. Every day we learn something new from the young people who stay with us, and we realise we should never take anything for granted.
"It's definitely helped having a loving family who accept we may suddenly have to change plans with little or no notice, and that the children have to come first."