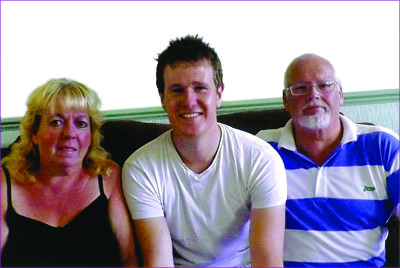 Seeing a young person turn their life around is a huge reward for dedicated foster carers.
Just ask Bonnie and Dave Chadwick, who have been foster carers in North Somerset for the past 13 years.
Their first placement began in June 2001 when Bill came to live with them, and he stayed for 10 years.
There were challenges at first and Bonnie said: "Bill did not have routines, boundaries or consistency. He spent a lot of time on computers and could not concentrate on things for very long."
Bill was also behind in his development, would fight, argue, climb on shed roofs and not sit at the table at mealtimes.
Bonnie said: "We talked to him, gave him 'time-out' space, and were there to listen to him when he needed it.
"We spent a lot of time going out with him on bikes, playing games, going on picnics, and we got him involved in sports clubs such as badminton, football and cricket. We also limited computer use to one hour a day, which was one of the main behaviour problems."
During this time the couple had support from their own social worker and Bill's social worker and got support on managing behaviour and attachment issues.
Bonnie added: "Over one to two years we saw a big difference. He improved on reading, writing, socialising, his behaviour and self-esteem. He started to know what was right and wrong."
Kirsty Howie, from North Somerset Council's fostering service, said: "Foster carers can help to turn a child's life around.
"Seeing a young person change and develop and achieve so much is a huge reward." Bill is now at university and returns to visit them regularly. Bonnie added: "We have continued to help and support him, even today. Dave and I are proud of him and the progress he has made."
Could you be a foster carer?
Becoming a foster carer may seem daunting but there is a team of professionals on hand to ensure everybody's well-being. These include a social worker, the child's social worker, an out-of-hours and emergency telephone service and health practitioners.
Regular events and coffee mornings are also held for foster carers to meet others. Training is an integral part of fostering. Before registering as a foster carer, basic training includes first aid, how to promote education and learning, how to work in partnership with other childcare professionals, how to predict and respond to certain behaviours, how to set appropriate boundaries and how to keep children healthy and safe. Following this, continuing professional development is available. This could include courses on sex and relationships for young people, understanding drug and alcohol abuse or caring for children with learning difficulties.
Foster carers with a commitment to training are rewarded with increased fees, which are graded on skills and experience.
In addition, a fortnightly allowance is paid to cover the cost of each child, such as food, clothing, personal needs, travel, and a household contribution. Additional allowances are paid during the festive season, holidays and the child's birthday.